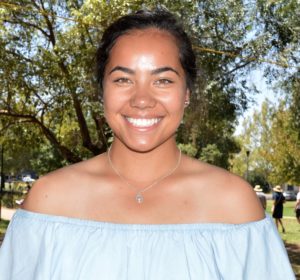 Emeline Lavaka – Parkes Young Citizen of the Year
How long have you lived in Parkes and what do you like most about living here?
I've lived in Parkes all my life and the things I like most are the close friends and family I've made.
What do you do currently and what do you enjoy about it? I work at the Parkes Pool at the moment and I enjoy the team of people I work with a lot.
What is your favourite thing to do when you have free time? I like watching the footy and just hanging out with my friends.
What makes you proud? I was proud when I received my award on Australia Day.
If you could be an animal which one would you choose and why? Something in the sea because the ocean is really cool.
What is your all-time favourite movie, song and/or book, and why? Movie: Remember the Titans and book: Frankenstein by Mary Shelley. I like emotional movies and books (:
Tell us about your best holiday. My favourite holiday was when I went skydiving at the beach in Wollongong.
What is on your bucket list? To see and live somewhere in Europe.