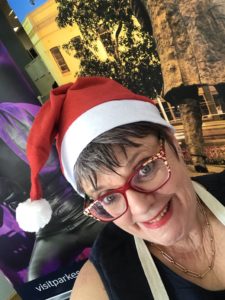 Jenny Short
How long have you lived in Parkes and what do you like most about living here? I was born in Parkes, grew up in Trundle, had a few adventures before moving back to Parkes 27 years ago. The air is clean, the community strong and opportunity abounds.
Where do you work or what do you do currently and what do you enjoy about it? I am a casual tourism officer at the Visitor Information Centre. It is honestly the best job I have ever had! So many people, so many stories. I just LOVE it!
What do you do in your spare time and on weekends? Nothing beats a cup of tea (or glass of bubbles depending on the time of day), a sunny spot in the garden and a good book.
What are you really good at? Making fruitcakes and offering 'suggestions' to my significant other on how he could be spending his 'spare' time…
If you could have a superpower what would it be? To create the world John Lennon was thinking of when he wrote 'Imagine'.
What is your pet hate? Made up words. Lazy speech. Poor grammar. I could go on, how long do you have?
Tell us about your best holiday. Paris – always Paris. Oh, and the west coast of Ireland – gobsmackingly beautiful!