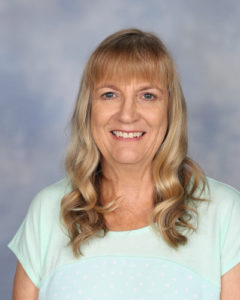 How long have you lived in Parkes and what do you like most about living here? I was born in Parkes and have always lived here, except when I went to Bathurst to complete my teaching degree. I love Parkes because it a great place for kids to grow up and be involved in many different sports which was important to my family. We have met many wonderful people who do so much for the community.
Where do you work or what do you do currently and what do you enjoy about it? I have the great pleasure of teaching Kindergarten at Parkes Public School. I absolutely love teaching. No two days are the same and I work alongside a kind, caring and extremely dedicated staff. I love the children I work with, and appreciate the wonderful support we receive from parents and the community.
What do you do in your spare time and on weekends? It is important to me to spend time with my beautiful grandchildren Kallum, Annabelle, Zac, Lola and Koen. Sometimes I like to do patchwork. I plan my learning experiences for my class most weekends.
What are you really good at? I like to bake, especially with my grandchildren. I used to be quite good at icing birthday cakes.
If you could have a superpower what would it be? To teach all children to read and write with ease and give them the ability to see inside themselves to see the beautiful, capable, strong person they are and to feel happy with themselves.
What is your pet hate? To give up without trying.
Tell us about your best holiday. I went to the UK last year and loved Ireland. The most interesting place though was South Africa. We went with my son for hockey and saw Robben Island, where Nelson Mandela was imprisoned, Soweto and went on a safari in Pilanesberg National Park.