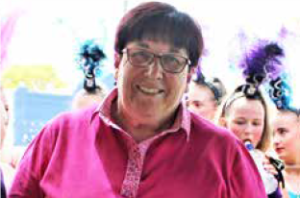 Lorraine Job
How long have you lived in Parkes and why do you like living here? I have lived in Parkes for nearly 51 years. I like the quiet country lifestyle and the friendliness, support and security that living in Parkes allows.
Where do you work and what do you enjoy about your work? Self-employed cleaning contractor. There is really a great deal of satisfaction in restoring order and cleanliness to grime and chaos. I enjoy the end result not the process.
What are you really good at? When given a job to do I try to do my best to work diligently and tirelessly to follow it through to completion. All throughout my life I have been taught by the people that mattered to care for others and to take responsibility seriously, no matter the task.
If you could have a super power what would it be? To have the ability to never ever allow a child anywhere in the world to suffer from serious illness, ill treatment, hunger or displacement. Children are a gift to cherish.
What is your pet hate? 'Hate' is a word I try not to use but I do get 'frustrated' when my time is wasted. Time is precious and can be easily taken for granted. Time once spent cannot be returned and the older I get the more I appreciate and value each and every minute.
Tell us about your best holiday ever?
My husband and I toured Canada, USA and Alaska in mid-2017 with friends. It was as scenic and wonderfully beautiful as the brochures said. New York, New York, fabulous!