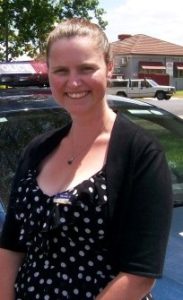 Melanie Suitor
How long have you lived in the Central West and what do you like most about living here? I've lived in the Central West – Blayney, Parkes and Orange since 1994. I love the laid-back country lifestyle without the hustle and bustle of a big city. I also love how friendly everyone is. There is a real sense of belonging and community.
Where do you work or what do you do currently and what do you enjoy about it? I am the shared Parkes, Forbes and
Lachlan Shire Councils' Road Safety and Injury Prevention Officer for 15 years! I love the diversity of the role – every day is something different. It's really rewarding to be making a difference to people's lives.
What do you do in your spare time and on weekends? Spend time with my husband Ben and my two-year-old daughter Felicity. Also love catching up with other family and friends.
What are you really good at? Proofreading. It's a thankless task sometimes – but I love language and have an eye for detail.
If you could have a superpower what would it be? Teleporting. How great would it be to be able to click your fingers and be at your destination without all the travel?
What is your pet hate? Being late and being unorganised.
Tell us about your best holiday. Anything at the beach is a winner. My best holiday was probably this year's trip to Bonny Hills with my family. It was Felicity's first time at the beach and she loved it. We went every day.