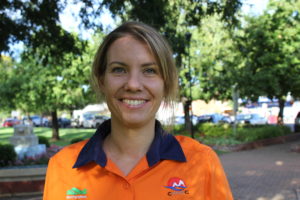 Michelle Wetherell
How long have you lived in Parkes and what do you like about living here? We moved to the Parkes area in 2014 and shortly after bought a property in Peak Hill. We are back in Parkes following my return from parental leave. We're back in Parkes because there is more support here with friends and facilities. It's a great town to raise a child in.
Where do you work and what do you enjoy about your work? I work at Northparkes Mines as the Human Resources and Organisational Development Superintendent. I really enjoy the flexibility as well as the little community we have out there and the way in which the mine supports locals.
What do you do to unwind after work or on weekends? We really enjoy exploring the local area, my husband has a fishing kayak and I've got a stand up paddle board so we're looking forward to using those at the local dams. I'm keen to get back into horse riding, so if anyone has an old plodder sitting in the paddock let me know!
What are you really good at? Talking! I'm happy to have a chat to anyone. Others might say I'm really good at being late for everything….my family lies to me about start times to functions so I arrive on time.
If you could have a super power, what would it be? I'd love to be able to multiply myself so I could have a few Michelles running around getting things done and experiencing everything!
What is your pet hate? Someone moving the tea towel from its spot in the kitchen, my husband and mother-in-law are terrible for it!
Tell us about your best holiday ever. It must be the last 12 months I had off work to have our baby girl, Mackenna. We lived in a little fishing town called Tin Can Bay, Queensland. We were 20 minutes from some amazing places like Rainbow Beach, Double Island Point and Fraser Island and took advantage of every opportunity to get out and explore, while watching our girl grow up.