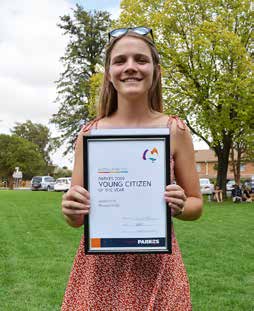 How long have you lived in Parkes and what do you like most about living here? I have lived in Parkes my whole life (17 years). I love the enthusiasm and dedication of community members who always get involved in town events.
Where do you work or what do you do currently and what do you enjoy about it? I'm a shop assistant at Cunningham's IGA and a coach for the Parkes Tennis Club. I love interacting and working with others in both my jobs. I absolutely love both working environments. I enjoy the friendships I've made and of course the banter.
What is your favourite thing to do when you have free time? In my free time I love to have a hit at tennis, throw around a softball with my sister, or spend quality time with my dog, Cleo.
What makes you proud? Seeing others achieve their goals knowing the endless amount of hard work they have put in to their success makes me proud.
If you could be an animal which one would you choose, and why? I would be a bird of some sort so I could fly around exploring the world from a different perspective.
What is your all time favourite movie, song and/or book, and why? I don't necessarily have an all time favourite song, but I love all Ed Sheeran songs.
Tell us about your best holiday. I've been on so many trips for different sporting events that I can't pinpoint my best time away.
What is on your bucket list? To travel and explore around Europe with my sisters.