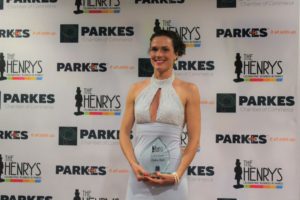 Stephanie Hughes
How long have you lived in Parkes and why do you like living here? Three years. I love living in Parkes and Forbes. They are great places to live and work.
Where do you work and what do you enjoy about your work? Hughes & Co Lawyers & Conveyancing. I love working with the amazing and inspiring people in our team each day, to find cost effective solutions for our clients.
What do you do to unwind after work or on weekends? My dog Minnie is pretty special and we do most things together, running, walking, eating out and about, horse riding and water skiing.
What are you really good at? I love cooking, but I'm not sure that I'm actually very good at it, I often try to cook too many things at the same time and burn at least something.
If you could have a super power what would it be? The ability to predict the future. I could be so much more organised if I just knew what was going to happen.
What is your pet hate? People who are judgmental, as though they know what someone else has been through, when they cannot possibly.
Tell us about your best holiday ever? Any holiday is a good one! I don't get many holidays…