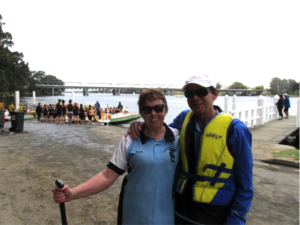 Dragon boating is a wonderful sport. You can paddle for fun, fitness and friendship – or you can train seriously for the regatta team, or try out to join the state team. You can paddle in interstate events, or even in other countries.
You can join any regatta with or without the rest of your team, which is just what Bill and Beth Thomas of the Forbes Lachlan Dragons did last Sunday.
Nowra Water Dragons were holding their annual regatta on the stunning Shoalhaven River, and Bill and Beth joined the 250 competitors from community and sports teams for a great day of friendly competition. The Nowra regatta offered an added bonus for Bill who had just attained his level 2 sweep accreditation. The sweep steers the boat and is accountable for the crew. He was able to carry out this task with great aplomb on the untried tidal river of Shoalhaven.
A waterway quite different to what he is accustomed, but he did an incredible job – sweeping his team to two first places in heats and a second in the finals. Bill needs to complete one more regatta to be fully qualified and will take part in the Orange Regatta with the Forbes Lachlan Dragons later in the year. The Forbes Lachlan Dragons, with members from Parkes and Eugowra region, value teamwork, passion, achievement and friendship. If you'd like to find out more about dragon boating or the club, find us on Facebook.
We are based at Lake Forbes, behind the Sport and Rec Club in Lachlan Street. We would love to see you come along on Sunday mornings at 8:15, and 6:15 Thursday evenings in daylight-saving time.
By Beth Thomas