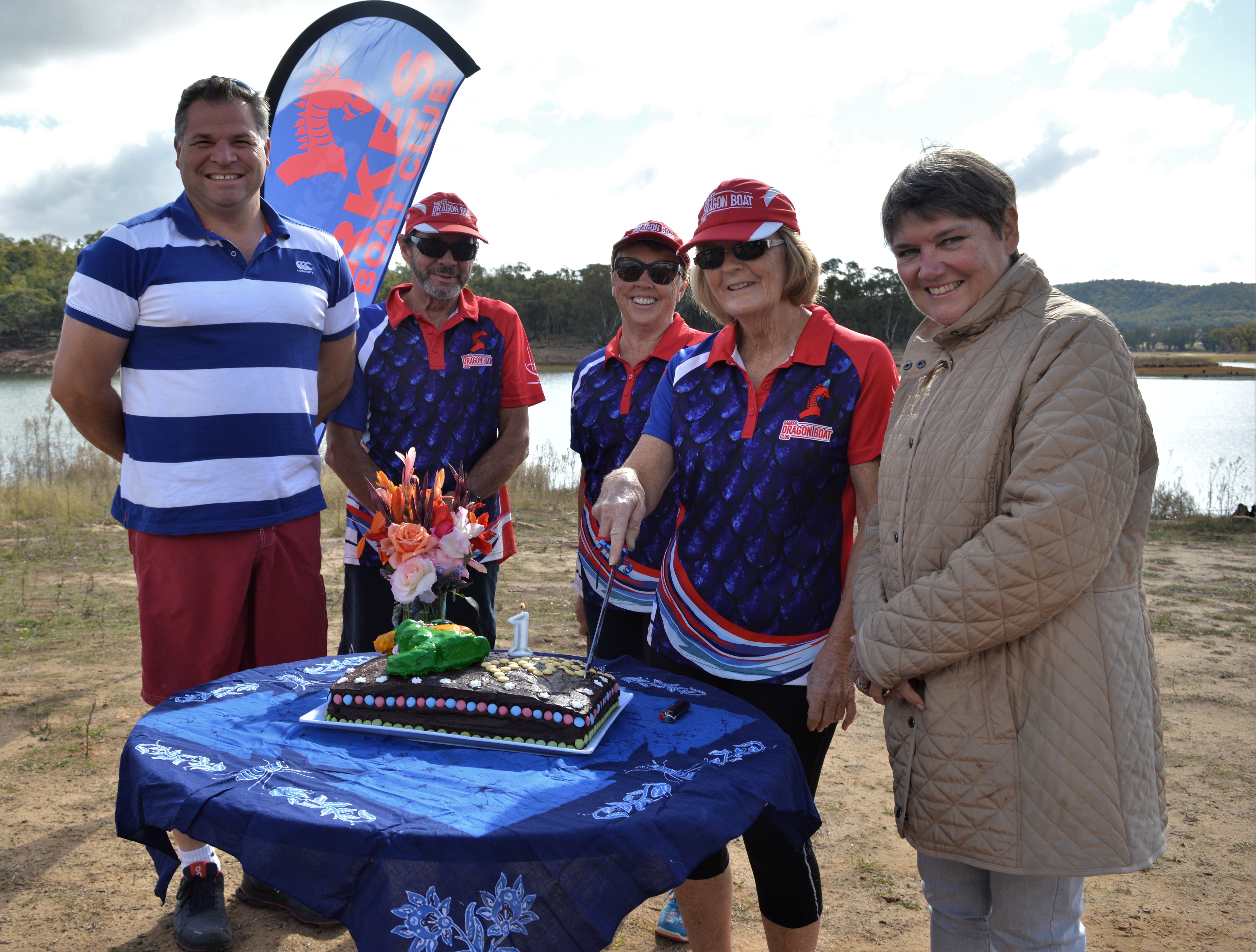 The shore of Lake Endeavour was a scene of festivity when about 100 people helped to celebrate the first anniversary of the Parkes Dragon Boat Club (PDBC) on Sunday.
As colourful flags fluttered in a slight breeze on the last beautiful day before the cold stepped in, Phil Donato MP praised the club for what it has brought to the community of Parkes.
Deputy Mayor Barbara Newton thanked the club for looking after the lake and its environment.
Once the dragon birthday cake was cut, it was time to get on the water. Club members came from Forbes, Bathurst, Orange Pinnacles, Orange Colour City and Mudgee to help celebrate the day.
The two boats went out several times with mixed teams including first time paddlers.
"What a splendid day it was," said PDBC President Bill Thomas. "It was great to see so many members from other clubs joining us for a fun-filled day both on and off the water, and all the first-time paddlers who hopped in a boat. I can only say a big thank you to everyone for making it a great day!"
The Pinnacle Dragons agreed it was a wonderful day. "Thank you Parkes Dragon Boat Club – it was a joy to help you celebrate your first birthday – you are a credit to the dragon boat world."
Some club members reflected on the first year with Michael Hutchison saying: "It's been a wonderful experience. The people who established the club have done an absolutely magnificent job."
Chris Auld said it had changed his life, while Sue Griffey said: "Being on the water is so peaceful and relaxing, which is very good for the mind."