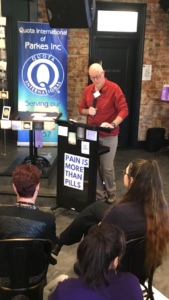 About 20 volunteers, clinicians, pastoral care staff and supporters of palliative care met in Parkes last Friday to talk about existential suffering and care. 'Pain is more than Pills' was hosted by the Parkes Palliative Care Volunteer Service through Parkes' Neighbourhood Central.
Attendees travelled from Orange, Dubbo and Sydney to hear speakers on total pain, spirituality and care of the spirit, caring for the 'whole', personal experiences of caring, end of life planning and the importance of connecting.
Attendees also reflected on and shared about their practice of care.