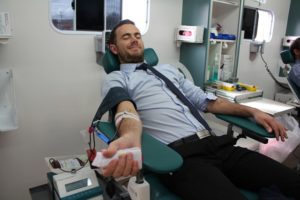 The local AFL team, the Parkes Panthers, have taken on a life saving challenge off the field. Last month seven players lined up to donate blood as part of the Hutcheon & Pearce blood drive to save 1, 000 lives this year. Another 20 players will be donating blood when the Red Cross Blood Service is in town again in October.
Nicholas Ryan, who was one of the first players to go, donated blood for the first, and said he would be back next time. Barry Reidy, Branch Manager of Hutcheon & Pearce in Parkes said his company's 11 branches in NSW wanted to create awareness of the blood shortage experienced during winter months. "Our aim is to try and raise donations to save 1, 000 lives." Every donation counts for three lives, and about 150 donations had been made in the first seven months of the project. "We are going to struggle hitting our target at this rate, and I would like to encourage all residents to sign up on the Red Cross website."
Barry said Hutcheon & Pearce sponsored the Parkes Panthers and they were keen to take up the challenge to donate
blood. Ronny Maroun, community relations officer of the Red Cross said over the winter months up to 900 people per week cancelled their appointment. This results in a shortage of blood. The Red Cross will be back in Parkes from 17th to 19th October. You can donate blood every three months so make sure to mark this date in your diary.
By Maggi Barnard