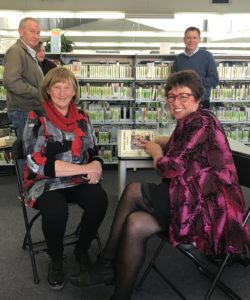 Parkes author Beth Thomas was invited by Bathurst City Library to give an author talk on her historical fiction novel, Remember Oradour. Almost thirty people attended to hear Beth speak about her inspirations for her successful
debut novel, which was launched in Parkes in March. "It was a lovely, informal gathering with a really warm group of people," said Beth. "They were very attentive and genuinely interested. Bathurst is a very cultural rural city and I felt honoured that they had invited me."
Beth spoke about her feelings for Oradour, its people and its history. She tells the gripping story of a village in war-torn France. "My book brings the town back to life with characters from all generations with multifaceted relationships. From generations of adults to babies being born…just as in reality." From readers' comments it is obvious Beth has brought Oradour back to life in its beautiful setting, with its authentic historical background, and with very real characters.
Beth's readers have been profoundly touched by her passionate retelling of the true events of Oradour. As one reader said: "That was the most beautifully written book!" Another talented person in Parkes we can be proud of.