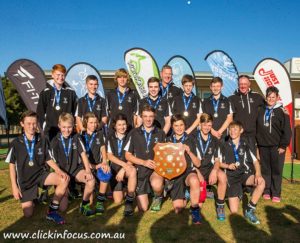 Parkes not only hosted the NSW State Hockey Championships last weekend, but the U15 Boys team of Parkes Hockey Incorporated won the Division 2 state title!
Parkes 1 defeated Bathurst 2-0 in the final and will move into Division 1 next year. Parkes 2 made it to the semi-final. Parkes 1 coach Glen Johnston said it was an ecstatic feeling to be state champions. "It was a really good result after ten weeks of hard work. The boys deserve this reward as they are eager to listen and learn." The team scored 22 goals in six games and only had two goals scored against them – "another incredible achievement," said Glen.
To top off a very successful weekend four players have been named in the 2019 NSW U15 Boys squad. They are Jack Westcott, Jacob Chambers, Hugh Daley and Austin MacGregor. Parkes Hockey has received very positive feedback on the first hosting of a state championship with Hockey NSW thanking them and all the volunteers for the hard work and putting on a "stunner for everyone".