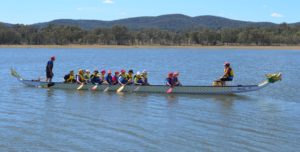 The Parkes Dragon Boat Club picked a perfect day to invite breast cancer survivors and their supporters to share the beauty and calming effect of a paddle on Lake Endeavour last Sunday.
Scientists say that feeling a sense of calm when we are around water has a positive effect on our brains. This was evident on Sunday with plenty of smiles and positive vibes floating around. The day was organised by Secretary Beth Thomas, and club members stayed behind after their regular Sunday morning training session to entertain their
guests to a paddle, slice, sausage sizzle and socialising.
As the beaming paddlers stepped off the boat, they all agreed they had a fantastic time. "It is just wonderful, I'll definitely do it again," said Sandy Perceval. "It is a pretty spot and just great being out on the water," said Jenny McDonald.
Lachlan Health Service McGrath Breast Care Nurse, Dianne Green organised a group of more than 20 breast cancer survivors, including their families and friends, from Parkes, Forbes, Condobolin, Trundle and Alectown.
"It is wonderful of the Parkes Dragon Boat Club to invite us out here," said Dianne. "It is so nice to get them all together with their loved ones to share their common bond." President of the Parkes Dragon Boat Club Bill Thomas said: "This is a great way to showcase our club." He welcomed the guests to join as members or a paddling session whenever they felt like it.
By Maggi Barnard