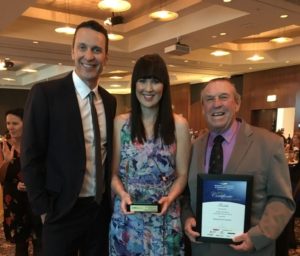 The Parkes Elvis Festival is collecting awards this year. Last Friday the festival was named winner of the prestigious Dobija Print World Events and Tourism Award at the 2016 NSW/ACT Regional Achievement & Community Awards in Wollongong. The annual awards program, presented by Prime7 and supported by the Commonwealth Bank, recognises groups, businesses, individuals and communities who play a vital role in enhancing the social, environmental and economic prosperity of country NSW and the ACT.
Parkes Elvis Festival was one of four finalists in the Events and Tourism category, taking home the title ahead of Tamworth Country Music Festival, Bluesfest and Deni Ute Muster. Festival Director Cathy Treasure said "It's
an honour to have won this award given the calibre of the nominees in this category." "In 2016, the Festival enjoyed more than 22,000 visitors, had a global media reach of 80 million and injected $11 million into the regional economy." Parkes Shire Councillor Ken McGrath said it was exciting for all those involved to receive the recognition, especially with the Festival's 25th Anniversary in 2017.
This is the second award the 2016 Festival has won this year, having taken out the Festivals and Events category at the 2016 Regional Tourism Awards. Parkes Elvis Festival has won TV advertising on Prime7 as part of the prize. The festival is also a finalist at the NSW Tourism Awards, with a winner to be named at a presentation dinner in Sydney
next Thursday.