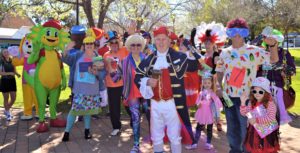 Cooke Park was abuzz with hundreds of children for Paint Parkes REaD 2018 last Friday. An amazing array of REaDiculous characters,  including the Mayor, Town Crier, Reading Bug and Rooby Roo, set out to celebrate literacy and raise awareness of the importance of a language-rich environment from infancy.
"I am totally and 'readiculously' thrilled with the Parkes community and schools," said creative director Rhonda Brain, "for helping us spread the message to: read, sing, talk and rhyme to your baby all the time."
Reading and activity hotspots were found along Clarinda Street engaging groups of students.
Mayor Ken Keith OAM, who read stories, said: "The community reading day is absolutely fantastic for our town. This is the most 'readiculous' idea that Rhonda has ever come up with!" National Party candidate Yvette Quinn read from a tree and Roel Ten Cate OAM enlisted a visiting seven-year-old from Dubbo as his helper.
Among the activities of reading, rhymes, dancing, drumming, theatre and word puzzles, there was the novelty of sending Morse code telegrams and messages by carrier pigeon.
The community reading day, which is a Parkes initiated program, have been adopted in over 70 communities in five states. Barbie Bates, the event's national executive director, was in Parkes to address the importance of early language on brain development.
The crusade continues with Sarah Chamberlain attending to learn how to Paint Lightning Ridge REaD, and Robyne Harrison and Rooby Roo has set off to Paint Penrith REaD.
By Beth Thomas