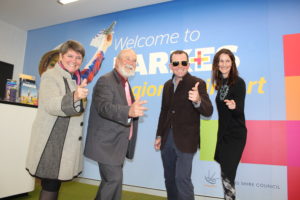 The NSW Minister for Tourism and Major Events flew into Parkes last Friday to look at plans for the further development of the airport.
Minister Adam Marshall said the plans to extend the apron and develop the busi- ness park at a cost of $3 million starting in September would mean a huge economic boost and opportunity for future growth at the Parkes airport.
"With the development of the Bankstown airport in Sydney, all those businesses forced to move will be looking for other locations. Parkes is perfectly positioned with plenty of land, good infrastructure and communications technology."
The minister heaped praise on Parkes saying it is a vibrant place with a spark to it. "You know what you are and where you are going. Parkes is not just talking the talk, but also walking the walk with world- class facilities.
When asked about Council's pitch to Amazon to establish its fulfilment centre in Parkes, Adam said it was a terrific idea. "There is no reason why it could not be done here."
Parkes Shire Council's Director of Works and Services, Ben Howard said there was a big demand for more hangar space at the airport and six new lots would be developed in the first stage.