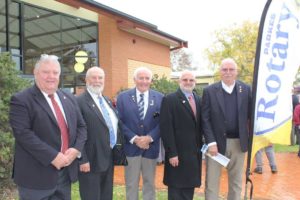 The Rotary Peace Precinct stood almost abandoned as it was dusted by light rain on Wednesday, while across town the official dedication ceremony was conducted indoors. The standing-room-only event was moved to the Little Theatre, but even though attendees were unable to walk amongst the peace pillars at the base of Memorial Hill it was none-the-less an appropriate location.
Theatres are magical places that can transport an audience across time and place, and Wednesday's ceremony was no exception. The audience was invited to visualise the Peace Precinct, to consider the symbolic imagery in the totem sculptures and dry creek bed, and to imagine how the installations interact with the land.
The audience was also transported further afield, as each of the official speakers reflected on the nature of peace, sharing their personal connections to various countries and conflicts, not just across the world, but also across history.
Even though the dedication was not held within the precinct, it was a deeply moving ceremony that evoked the passion and energy of the many talented and dedicated people who worked to bring the project together.
The Peace Precinct represents the values expressed in the Rotary Peace Communities credo, with a particular emphasis on reconciliation. The five timber sculptures are carved with Wiradjuri iconography, each reflecting the tenets of the credo; Respect, Reconciliation, Families, Newcomers and History. Four of the pillars are positioned to represent music notes, which together create harmony.
Harmony was the enduring theme through- out the ceremony. Students from Holy Fam- ily School and Parkes East Public School formed a joint school choir to perform Kookaburra in both English and Wiradjuri. This was later followed by an emotive flash-mob performance of I Am Australian.
The Peace Precinct is yet another of Parkes' treasures. When you visit be sure to take time to engage with its poignant symbolism.
By Raen Fraser