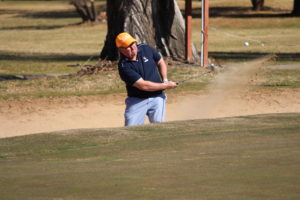 The Parkes Open Golf Tournament will see the strongest field in its 43-year history competing on Sunday. The SCT Logistics 27-hole event has attracted 144 players with 44 of them off handicaps of 8 or less. According to Parkes Golf
Club's Tournament Director Paul Thomas this has forced officials to change the A grade field from its normal 10 handicap to the lower limit of 8.
The field also includes eight golfers off handicaps of square or better, while over half are off handicaps of 4 and below. The Harvey Norman B grade field will be for players on handicaps of 9 to 15, and the Video Brokers C grade field will be for players on handicaps of 16 to 27.
Three former winners will be playing with titleholder Steve Betland of Forbes, his brother John who plays Pennants out of the strong Moore Park Club in Sydney despite still residing in Forbes, and DuntryLeagues' multiple winner Robert Payne.
Mudgee golfer Mark Hale will start as favourite slightly ahead of Robert Payne, and the Australian's James Brownlow with the Betland brothers certain to be in the mix. The local club's major hopes include reigning club champion Mitch McGlashan and Justin Sutton.
Sydney clubs have again supplied a large quantity of the field and it will be interesting to see how the strong field of visitors handle the undulating and tricky greens. In the minor grades, local players are hoping to gain success with Denis Howard, David Stevenson and junior golfer Lachlan Buesnell the major contenders in the Harvey Norman B grade restricted to players on handicaps of 9 to 15.
By Paul Thomas