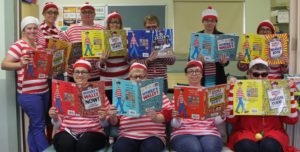 Parkes Public School hops into Education Week today with the annual Jump Rope for Heart event for K-2. Parkes Public is the only school to have been taking part every year since the inception of the event in 1983. Families are invited to attend the fun filled session and stay on for a picnic lunch.
This year the school will be educating parents too with two maths workshops planned to provide strategies for parents to help their kids with homework. Primary parents will get their maths lesson on Monday at 5:30pm, while Infants parents have their turn next Friday at 2:00pm.
The annual open classrooms event is on Wednesday at 12:00pm with a picnic lunch for students and families at 1:15pm, followed by a whole school assembly at 2:00pm. A book fair held at the school last week was wonderfully supported by students and parents with nearly $4, 000 raised, and more than 70 families donating a book to the library. The book fair kicked off with a dress up day with the teachers turning up as Where's Wally's and Wanda's.
Parkes Public also had to say farewell to Principal, Leanne Breaden last week. After 28 years at the school and principal for the past ten years, she is moving on to become Co-ordinator of the NDIS in the State Office in Sydney.
"We wish Mrs Breaden all the best as she begins her new role," said Ben Smith, relieving principal.