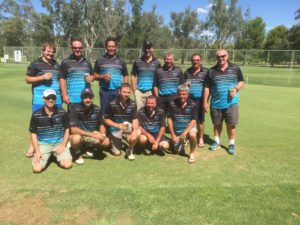 After play in Forbes last Sunday the Division 3 side of the Parkes Golf Club were the only team guaranteed a spot in this weekend's semi-finals of the CWDGA Pennants. Parkes secured three semi-final berths from four divisions with Divisions 2 and 4 both earning the wins they needed to gain a spot in the finals.
"Outperforming many of the bigger clubs such as Duntryleague, Mudgee and Bathurst is very pleasing for us," said Parkes  Golf Club captain, Peter Dixon. In a very tightly contested competition, Parkes topped Pool B in Division 2 after a 5-0 victory over Cowra. Brendan Chambers claimed a comprehensive 4 and 3 victory, and Phil Barnard secured a 2 and 1 victory.
Joe van Opynen continued his unbeaten run to win 2 and 1, and Tim Burke scored a 3 and 1 victory. John Green won his match 4 and 2, and Division 3 topped their pool with a 3-2 win against Bathurst.
With the help of an eagle three on the 15th hole, Todd Jayet remained undefeated with a big 5 and 4 win. Peter Bristol (3 and 2) and Jake Hodge (19th) gained the two wins to claim the tie for Parkes.
In Division 4 Terry Walsh secured one of the biggest wins seen in the CWDGA competition winning nine of the 11 holes he played. Dr Dave Harwood claimed a comprehensive 6 and 5 victory, while captain Jarrod Kemp claimed the vital win 1 up to secure the tie.
Division 1 played their final match of the year against a strong Bathurst team, going down by a narrow 3-2 margin.
Lachlan Buesnell (2 and 1) earned his second victory, Rob Hey (2 and 1) claimed his match, while Denis Howard (3 and 2), Peter Dixon (3 and 2) and Aaron Wilkie (2 and 1) were beaten.
Divisions 2, 3 and 4 will play their semifinals in Dubbo this Sunday. Division 2 will play Mudgee, Division 3 play Wentworth and Division 4 play Wellington.
By Denis Howard