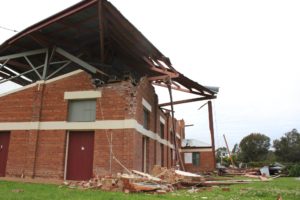 The Parkes community is still reeling from the tornado-like flash storm that hit the town last Friday night with clean-up operations going on unabated. The effect of the freak event was felt immediately when the storm caused power
outages to more than 4,860 households and businesses. Some households' power were only restored by 2:30pm on Saturday. "The damage to the electricity network was significant and included many fallen service lines and powerlines due to the wind, trees, and damaged buildings," said the manager community relations Northern, David Crough.
The SES received 126 requests for assistance. According to the SES Facebook page the Parkes Unit, with assistance from ten other SES units and NSW Rural Fire Service, had cleared all the requests by Tuesday. According to the Communications & Marketing Officer of the Parkes Shire Council, Emily Brotherton, damage caused to community
infrastructure, footpaths and roads has been extensive. "We don't know exactly how many homes have suffered damage as yet."
The 88-year-old grandstand of the Parkes Racecourse seemed to have taken the brunt of the storm and was left in ruins, while a wall collapsed at Gecko Pizza and Take Away on Forbes Road. Several carports, sheds and trampolines were either blown away or left crumpled up like pieces of paper.
Emily said Council crews responded immediately to calls from residents for assistance and by Tuesday had received over 100 calls for assistance to remove debris from roads, footpaths, community infrastructure and homes.