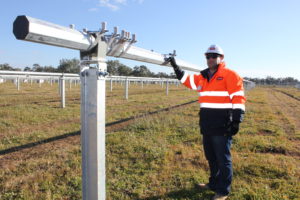 The abundance of sunshine in Parkes will be harvested for power generation by the end of the year.
Leading French renewable energy firm Neoen is busy erecting more than 200,000 ground mounted solar panels in a 210 hectare area approximately 10km west of Parkes.
Parkes Solar Farm, as it will be known, will produce enough renewable energy to power more than 20,000 homes per year. It will be the biggest solar farm run by Neoen in Australia with a capacity of up to 80MW, and make a major contribution to Australia's greenhouse gas reductions.
Project Manager, Warren Woo said con- struction should be complete by October and he expected it to be fully operational by the end of the year.
"During construction, the project in excess of $100 million, would create up to 150 jobs for local people at peak times." He said over the long-term contractors would be needed to clean panels, for vegetation management and electrical maintenance. He added the landowner, who is leasing the land to Neoen, were benefitting too.
According to Warren the site near Parkes was chosen because of superior solar ir- radiance, and the land is relatively flat with low tree density and no or manageable flood risk. The site also has good proximity to the local substation.
Neoen has there other solar farms in NSW at Dubbo, Narromine and Griffith and one operational in Western Australia, plus a wind farm in South Australia.
By Maggi Barnard