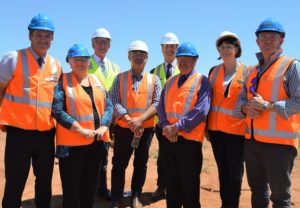 Parkes will be home to a new and game changing initiative as the Parkes Special Activation Precinct moves forward to the community consultation and on-the-ground studies phase.
This progress from concept to detailed land-use studies and community consultation will be part of a master plan for the precinct. NSW Deputy Premier and Minister for Regional NSW John Barilaro visited Pacific National's $35 million development at the Parkes National Logistics Hub to celebrate the progress on the state's very first Special
Activation Precinct.
"In just a few months since we announced this initiative, we have developed a strong strategic business case and invested millions for enabling infrastructure that will support the continued development of Parkes as an inland freight port," said the Deputy Premier.
"With the Inland Rail coming, we have to seize the opportunity to grow smart businesses in freight and logistics, agriculture and agricultural products, manufacturing and services."
Parkes Shire Councillor Alan Ward said the Parkes Special Activation Precinct and inland port would attract further major employers, driving the regional economy and creating jobs across the Central West and neighbouring regions.
"It opens up the opportunity for the Central West to access higher value markets, enabling farmers to be price makers, not price takers, which is especially important during challenging times such as the current drought."
He encouraged the local community and landholders to be part of the next phase's  community consultation which will include face to face meetings and public information sessions in coming weeks.
Pacific National Director of Corporate Affairs Andrew Huckel welcomed the announcement saying Parkes might be known as the Elvis capital of Australia, but in the future it would also be known in freight circles as the Memphis Down Under.
"Companies like Pacific National will have the added investment confidence to help create the largest freight and logistics precinct in inland regional Australia; akin to the major freight hub of Memphis in the interior of the United States of America."
He said the precinct was a 'tripling down' of great ideas. "The first was Parkes Shire Council's concept of a National Logistics Hub; the second great idea was the Australian Government's $10 billion Melbourne to Brisbane Inland Rail project; and the third was the NSW Government's Special Activation Precinct."
The Parkes Special Activation Precinct will be funded as part of the $4.2 billion Snowy Hydro Legacy Fund, which the NSW Government established with funding received from the sale of the Snowy Hydro Scheme to the Commonwealth.