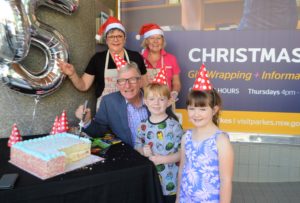 There was singing and partying in the street last Saturday as Parkes celebrated its 145th birthday. The informal birthday bash was held at Christmas Central in Clarinda Street and many of the town's citizens stopped by to join the party.
Councillor Bill Jayet, surrounded by some very excited children, cut the huge cake and shared it with the crowd, while Sharon Klarner and Katrina Newham handed out party hats and whistles. Jenny Short took time off from Christmas Central's free giftwrapping service to join the party.
"It was great to be able to play the big kid again," said Bill, "and share such a big birthday cake on such a milestone event."
Local busker and Parkes High School student Hannah Dun lent her amazing voice to add a beautiful touch to the atmosphere of the celebration. Hannah, who at 13 years of age has won runner-up in the Australian National Busking Competition for the last two years running, was delighted to accept Council's invitation to sing at the town's
birthday event.
The area of Parkes, first known as Currajong and later as Bushmans, began to flourish in 1862 with the discovery of gold. Then, 145 years ago on the first of December 1873, the town was renamed Parkes after Sir Henry Parkes, then Premier of NSW, and the main street was named after his wife, Lady Clarinda.
Happy Birthday Parkes!
By Beth Thomas