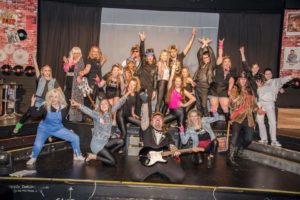 Rock of Ages, the latest Parkes M & D production, is set to be one of the most fun and high energy shows so far! It's got a great cast, a brilliant 80s soundtrack and a really funny script, and it opens tomorrow night. If you liked Footloose, Hairspray or The Wedding Singer, this will be right down your alley. Director, Greg Ballantyne, is thrilled with the way the show has come together. "I started out directing at the M&D ten years ago with an 80s show that I wrote myself called Groovy Moves, and then followed that up with The Wedding Singer. "Rock of Ages definitely has the same vibe as those shows," Greg said.
It features a mix of new, young talent and familiar faces. Greg is appearing as the offbeat narrator and guitarist Lonny, while the lead roles are filled by teenagers Matt Prow and Shannon Green. "Matt and Shannon are just unbelievable in this show", said Greg. "At times you forget that they're just kids, they are so professional." Dooley Thomson stars as legendary singer Stacee Jaxx, while Harrison Baker returns as washed-up rocker Dennis Dupree.
Georgia Goodrick, Piper Hennock, Erin O'Leary and Kiira Christensen turn in great performances along with Christie Green, Andrew Francis and Hannah Tanswell. The original musical inspired the hit film Rock of Ages starring Tom Cruise, Russell Brand and Alec Baldwin. Show season runs until 23rd October. Get tickets at www.parkesmandd.com.au.