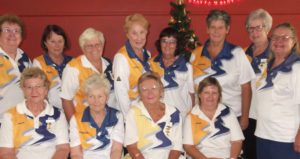 The Parkes Women's Bowling Club held it's annual presentation day recently. The following winners were recognised:
Club Championship Singles: winner – Pat Cooney; runner-up – Cherie Frame.
Club Championship Pairs: winners – Maree Grant and Pat Cooney; runners-up – Margaret Hawken and Audrey Jones.
Club Championship Triples: winners – Gwenda Carty, Cherie Frame and Rhona Went; runners-up – Betsy Johnstone, Brenda Davies, Liz Byrne.
Club Championship Fours: winners – Lorraine Heald, Eileen Bradley, Minnie Riordan and Audrey Jones; runners-up – Brenda Davies, Cherie Frame, Liz Byrne and Rhona Went.
Minor Singles: winner – Elaine Miller; runner- up Laurie Keane.
Minor Pairs: winners – Isabella Svendsen and Frances Charlton; runners-up – Laurie Keane and Marja Iffland.
Bowls will restart on 17th January 2017 with a trading table and shared lunch.
Thank you to our President, Minnie Riordan, and committee members for all their hard work throughout the year.
Have a Merry Christmas and Happy New Year!
By Rosemary Mitchell