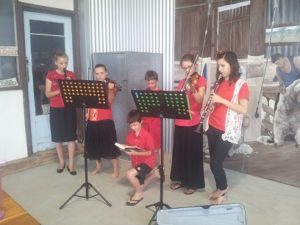 While other events were being cancelled, the Peak Hillians, in typical fashion, braved the weather forecast and pushed on with Plan B to get everyone under cover to ensure the annual Meet you up the Street went ahead last Friday.
"Although numbers were down due to the forecast of severe weather, we still had loads of fun, and the biggest amount ever raised with the chocolate wheel," said a very happy Betty Zdan, one of the organisers. "More than $2,000 was raised!"
Mr and Mrs Santa Clause did not disappoint and arrived for the children's photo, and the Nativity scene proved to be as popular as always. The children's entertainment was moved to the Southern Cross Hall where there were Sumo wrestler suits, a jumping castle and mechanical bull among other things.
Shops decorated their windows and vending spilled onto the street to provide a festive atmosphere. At 6pm just as Twilight Busking commenced the heavens opened. It went ahead regardless, and the winners were the Tid & Pauleen Duo and the McFayden Musicians equal first.
According to Betty the event next year could possibly merge with the Peak Hill National Busking Event that was staged successfully for the first time this year.