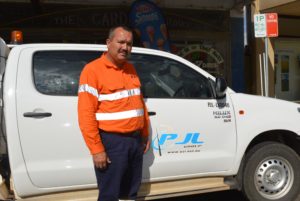 PJL has launched a division for the sale and service of irrigation and pumps from its Parkes operations. PJL has been operating in Parkes since lst July this year and employs in excess of 20 staff. Arne Murray is heading up the irrigation and pumps side of the business and has relocated to Parkes with his wife and two children. Arne has
been in this industry for 12 years, working previously for Lister Irrigation in Queensland. Arne brings a wealth of experience to this role, and he has worked on domestic irrigation systems to large scale agricultural and industrial pumping systems. The focus for this new division is to specialise and service all aspects of irrigation. At this time
of the year there is extreme pressure on all watering systems, from domestic, stock to pool systems, often leading to a varying level of repairs, and replacement of components and systems.
PJL sells and services Calepeda, Franklin and Mono pumps. Arne is available to speak to customers either over the phone or by meeting with them onsite to discuss their needs. PJL pride themselves on a high level of customer service and speedy response times. Contact Arne on 0488 715 400.