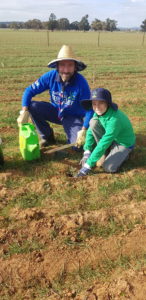 A new record was set at the National Tree Day event in Parkes on Sunday when nearly 70 people turned up to plant trees. "We were thrilled with nearly 70 people in attendance at Akuna Road. Our largest number yet for a National Tree Day event. Well done Parkes!" said Central West Lachlan Landcare (CWLL) Co-ordinator, Marg Applebee.
Volunteers helped to plant, stake, water and mulch an area adjacent to the Water Treatment Plant. This area closely links with plantings from the National Tree Day planting event three years ago and extends the wildlife corridor from existing bushland in the area. "The existing plantings have grown extremely well, with excellent planting conditions making a significant impact on survival," said Marg.
"Whether volunteers could donate one or two hours to the project, it has all made a fantastic contribution to the area. Our previous National Tree Day plantings are progressing well and we hope to see the same success at the Akuna Road site in the years ahead."
CWLL partnered with Parkes Shire Council on the day. Parkes Shire Council's Environmental Officer, Michael Chambers prepared the site to get it ready for planting, and Toyota provided shirts and gloves for the volunteers. After all the hard work, volunteers enjoyed a sausage sandwich.
Parkes residents joined over 300,000 people who took part in National Tree Day all over Australia each year.