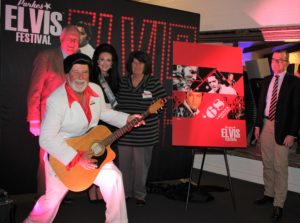 Black leather at the height of summer would normally not be recommended, except when it is January and you are in Parkes for the 2018 Elvis Festival! Celebrating 50 years since the '68 Comeback Special, the Parkes Elvis Festival promises to be even bigger and better with black leather, white suits and lots of pomade set to take centre stage from 10th to 14th January.
To add more glamour to the festival that has put Parkes on the international map, will be Australian rock legends Phil and Tommy Emmanuel, who went to school in Parkes. "We still have wonderful friends here, Parkes is a very important part of our lives," said Tommy at the launch of the festival at Hotel Gracelands on Monday.
The two brothers, who have more than 50 albums to their name and plenty of other accolades, will be inducted to the Wall of Fame on 10th January – a very fitting honour as Tommy said he believed Elvis' Jailhouse Rock was one of the greatest recordings ever.
The 2018 festival promises to be a fitting 50th celebration according to Festival Director Cathy Treasure with lots of new and exciting additions to the five-day program including a midnight show, dancing in the Coles car park, performances in the Little Theatre and more 5pm shows. A second train, the Blue Suede Express will arrive shortly after the Elvis Express, while a special Priscilla Plane will also be in operation for the first time.
By Maggi Barnard