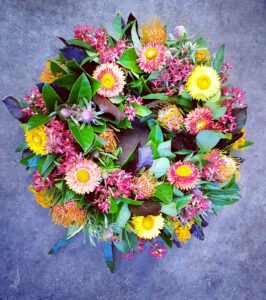 Remembering the atrocities of war is a complex business. We are encouraged to place our veterans on a pedestal and yet we must remember to not glorify the feats they enacted.
We are currently preparing for Anzac Day in the midst of World War I's centenary, and it is more important now than ever that we mark this time with dignity and respect. As the people of our country sacrificed their livelihoods, relationships, homes, let us too make a sacrifice, whether it be with our time as we go to a ceremony, money as we donate to our veterans, or even lay a wreath of flowers.
While poppies remain an enduring symbol, hardy fresh natives of our land represent the hardy young people that we sent off to war. To order your fresh floral wreaths, call the Pink Orchid on 02 6862 3522 for a fitting tribute from you on this Anzac Day.