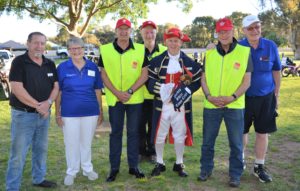 Not many people would think of ways to use old postie bikes, let alone use them to raise money for an important cause.
On Monday a cavalcade of 18 postie bikes and six support vehicles drove into Parkes to deliver a very important message and raise awareness of prostate cancer as part of the Male Bag Foundation's big ride from Perth to Melbourne.
The group of volunteers are raising funds to provide regional NSW with transperineally biopsy machines that are used to diagnose prostate cancer.
Using the familiar red Honda CT110s they can only travel at a maximum speed of approximately 80km/h, covering about 120 km on one tank of petrol.
Arriving from Griffith, they travelled about 300km on Monday. According to Patron David Parkin, a former Australian rules footballer and four-time premiership coach, and prostate cancer survivor, they would be well on their way to reach $1 million by the time they reach Melbourne this weekend.
The group was welcomed in Parkes by the Parkes Prostate Cancer Awareness and Support Group with a barbeque at Lions Park.