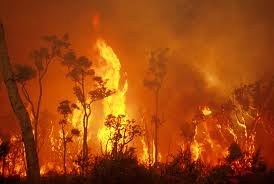 Australians are urged to work with their community, neighbours and friends to prepare for another tough bushfire season.
Minister for Natural Disaster and Emergency Management David Littleproud said all parts of Australia were vulnerable because of dry conditions and people shouldn't be complacent.
NSW authorities have brought forward the Bushfire Danger Period in 12 Local Government Areas two months early because of drought and above average winter temperatures. "Last August we saw homes destroyed in NSW; and again in North Queensland in November when the fire danger rating reached Catastrophic for the first time. Bushfires can strike at any time and we've got to be prepared," the Minister said.
"The Coalition Government has committed more than $6.2 million on the next generation Australian Fire Danger Rating System so we have more accurate and local fire risk messaging."
"All Australians, especially those in highrisk areas, should have fire plans in place well ahead of time to make sure they and their families are safe. Also when people know their neighbours it saves lives and helps during the recovery."
"People wanting more information, including on how to plan and prepare, should contact their local fire service."
Red Cross has tools and resources to help people prepare for disasters, available at www.redcross.org.au