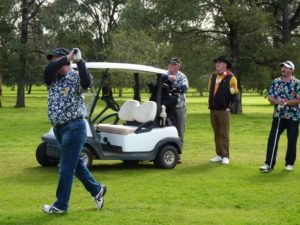 The annual Prostate Cancer and Awareness Charity Golf Day last Sunday had 20 teams contesting the 4 Person Ambrose event. Major winners on the day were the team of Guy and Brendon Bennett, Blake Janssen and Adrian Whittaker who returned a very impressive 51 3/8 nett. The team of Mitchel McGlashan, Kasey Fay-Rice, Robert Hey, Alec Maclean and manager Sarah McGlashan finished runner up on 51 7/8 nett after firing a brilliant 59 off the stick for the day's equal best scratch score with Cameron and Wayne Butler, Lachlan Buesnell and Cherrie Phillips. The minor placing was taken by Phil Bishop, Dub Rodgers, Paul Applebee and Rod Kiley with a 53 ½ nett in the Men's section.
Margaret Hogan, Frankie Cock, Lynne Guise and Kaye Jones dominated the Ladies section with an impressive 63 7/8 nett. More than $5,000 was raised to help the Parkes branch of CanAssist. President of the Parkes branch of the Prostate Cancer and Awareness Foundation, Michael Lynch, thanked all players and the day's sponsors, particularily Northparkes Mines and Central West Credit Union, Radio 1400 2PK & Rock FM and the Parkes Services Club.
The final of the ultimate game for amateur golfers Handiskins will be played this Sunday at the Parkes Golf Club. Cameron Butler, Robert Cheney, Wayne Butler and Ian Phipps will battle it out for $1, 200 of club vouchers in a game that sees the four players go head to head over 18 holes off handicap of skins golf. The players all qualified for the final after being the leading players from the five qualifying rounds where the best three rounds counted.
Despite Sunday's result, all four players will receive an invitation to attend the National Final at Hamilton Island.
By Paul Thomas