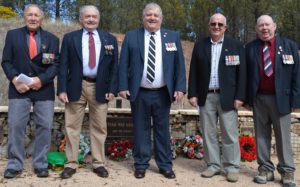 Vietnam Veterans Day was well attended by ex-service men and members of the public at the Vietnam War Memorial in Parkes last Saturday morning.
The day commemorates the Battle of Long Tan on 18th August 1966, and pays tribute to the 59,520 personnel who served in Vietnam. Three Parkes men paid the supreme sacrifice. They were 235250 Captain Tony Danilenko (MID), 216445 Corporal Denis Donnelly and 2782783 Private Dougie Powter.
"It is not a memorial about issues, about the glorification of the war, or the justification of political decisions. Rather it recognises sacrifice and suffering and the honour and sense of duty carried out by young men and women," said Paul Thomas, a Parkes veteran.