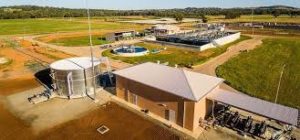 You might have noticed a lot of purple pipes being laid in Parkes recently resulting in some minor traffic disruptions.
It is the construction of the Recycled Water Rising Main that will ultimately increase the security of the town's water supply.
The new purple pipe network is the second phase in the Parkes Recycled Water Scheme, and will deliver recycled water to sporting fields and open spaces, as well as the Parkes Golf Course and the Parkes Jockey Club.
Parkes Shire Council's Director of Infrastructure Andrew Francis said: "The current drought really emphasises why water conservation is vital. Council recently had to declare Level 2 Water Restrictions after the water level at Lake Endeavour fell to 33%. The Recycled Water Scheme will be a welcome addition to our urban water network."
While recycled water will not be available to domestic customers, it will still provide flow-on benefits for residents. Water from the town's potable supply has been used to maintain sporting fields and public parks, which means using recycled water has a triple benefit. "It reduces the demand on our town water supply; it creates a second use for water that would otherwise be wasted; and it is more cost-effective than using potable water for irrigation," said Andrew.
He said although an entirely new waterpipe network is being built, the construction will be fairly low-impact. "The contractors will make every effort to minimise disruption, including using non-potable water for dust suppression."
The pipeline route and construction updates are published on the Parkes Shire Council website under Public Notices. Directly impacted residents will be contacted prior to construction in their area.
"We also urge residents to observe the new Level 2 water restrictions, and make small adjustments to reduce water consumption."