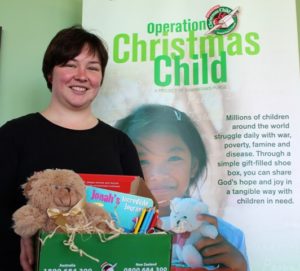 It feels too early to be thinking about Christmas already, but you can make a child very happy this year by packing a shoebox with gifts. Samaritan's Purse has developed a program called Operation Christmas Child that encourages the general public to pack a shoebox and drop it off at a collection point before Shoebox Sunday on 30th October.
Parkes residents are encouraged to take part in this program as Alice Milne at the Pink Orchid Café Florist is a drop off point for boxes this year. "We collected about 300 last year, and aim to get 500 this year," said Alice. All you need to do is collect a box from Alice, it up with gifts, donate $9 to cover the project costs and take it back to Alice before 30th October. You will get instructions and a list of gift suggestions and prohibited items. Some of the gift suggestions include something to wear (t-shirt), something to love (soft toy), something special (bangles, stickers etc), something for school (pencils), something to play with (skipping rope) and something for personal hygiene (face washer).
You can also register or donate online and follow your box to see where it goes!