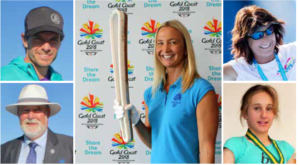 It's official! Nineteen locals from the Parkes Shire will be part of 3,800 batonbearers who will carry the Queen's Baton during the 100-day countdown to the Gold Coast 2018 Commonwealth Games next year. The 19 locals are a good representation of our community and includes several sporting heroes. They are Rebeckah Auld, Peter Bristol, Frances Dixon, Amanda Draper, Barry Garment, Darrin Gibson, Michael Greenwood, Nicayden Greenwood, Danielle
Hoskins (living in Condobolin), Kenneth Keith, Timothy Keith, Helen Magill, Maureen Massey, Lauren Neilsen (living in Forbes), Richard Rice, Cato Rutherford (living in Blakehurst), Victoria Simpson, Barbara Weaver and Scott Westcott (living in Adamstown).
Parkes Shire Council's General Manager, Kent Boyd said: "We are immensely proud to be represented by these 19 local legends. Their selection is recognition of their achievements, dedication and contributions they make to our community." For tennis coach Helen Magill it will be the second time to be part of such an exceptional event. She carried the Olympic Torch for the Sydney 2000 games in Parkes. "It was an amazing experience that galvanised our whole community to celebrate the Games, so hopefully the Queens Baton Relay will be an occasion just as memorable for the whole Parkes Shire." Helen said it was a huge honour to have been asked to participate as a batonbearer.
Parkes is one of eight overnight stops in NSW, and the baton will reach the town on Monday, 29th January 2018. The batonbearers will take more than a million steps collectively across Australia to bring it to its final destination at the Opening Ceremony on 4th April 2018. Each batonbearer will carry the baton for approximately 200 metres.
The baton starts its Australian journey on 25th December. It will travel through every state and territory covering 40,000km. Since its launch from Buckingham Palace on 13th March, the baton has gone across Africa, the Caribbean, the Americas and Europe. It is in Malaysia currently and will visit the remaining 15 Commonwealth nations in Asia and Oceania before arriving in Australia.