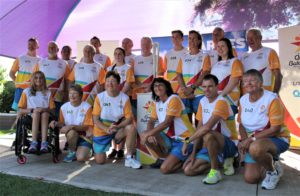 The past week has been a celebration of the Parkes Shire community and its outstanding, kind and generous members at the Australia Day celebrations on Friday and the Queen's Baton Relay (QBR) on Monday.
"Each of these people have made positive contributions to our community. Whether it be inspiring others through their personal achievements, generously dedicating time to a community group, organisation, event or project, or going above the ordinary in a specific field – they exemplify what makes the Parkes Shire a wonderful place to live, work and visit," said Mayor Ken Keith at Australia Day of all the nominees.
There are 19 equally inspiring stories for each of the batonbearers who were celebrated as they carried the baton around the streets of Parkes lined with supporters and onlookers. "We are very proud of our batonbearers," said Deputy Mayor Barbara Newton. "It blew my mind to hold this piece of engineering," said Olympian Scott Westcott
of the baton that is the focus point of the longest and most accessible relay in history, travelling through the entire Commonwealth for 388 days and 230,000km.
The Queen's Baton arrives on the Gold Coast for the XXI Commonwealth Games Opening Ceremony on 4th April, where HRH The Prince of Wales will remove Her Majesty's message from the baton and read it aloud to declare the Games open. The Australia Day Awards went to: Citizen of the Year – Warwick Tom; Young Citizen of the Year – Yasmin Potts; Marie Bashir Academic Award – Janie Green; Cultural Award (Adult) – Scott "Sauce" Towney; Cultural Award (Student) – Gracey Denham Jones; Cultural Award (Group) – Parkes Action Club, St Elmo Shearing Shed Art Show "Ducks on the Pond"; Cultural Award (Group) Highly Commended – Sean James Cassidy, Scott "Sauce" Towney, Scott Turnbull – Sculpture in the Rotary Arboretum. (To see full coverage of both events, go to our Facebook page.)