How were you affected by the storm?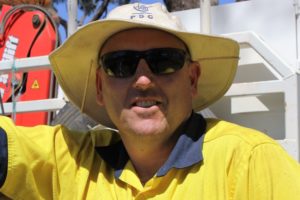 Troy Hutchings: I was lucky, I wasn't affected by the storm much at all, but I am spending this week cleaning up after it.
Derrick Milling and dog Monty: It was just the most incredible wind, it twisted the crowns out of the trees. Most of the devastation was done in three minutes. It was mostly landscape damage. I had some hail through the skylights in the shed.
Liz Noakes: It was really scary – the wind was so intense. We have heaps of small animals and the wind threw their cages all over our property. Two of our rabbits didn't survive, and some of our chooks were injured by flying debris. Our dog had puppies the day before, and sadly we lost one of them too. We're still hoping to find our two geese. We're lucky we didn't have more damage, but I would have preferred for my animals to be okay.