The Parkes College for Seniors held a fundraiser for Ronald McDonald House this week including a competition for old items. What is the story of your old item?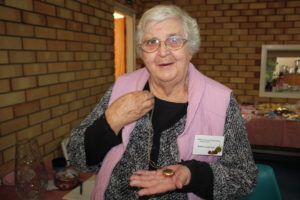 Doreen McKenzie: This is a golden sovereign case that belonged to my grandfather and then my mother. It is well over 100 years old.
Shirley Job: When I was 16 I wanted a fur coat to wear to balls and dances. My father helped me to set the rabbit
traps on our farm west of West Wyalong. We sent about 50 skins to Sydney in 1946 where this fur cape was made.
(Shirley won the old items competition.)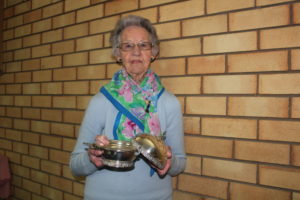 Joyce Stanford: This silver butter dish dates from 1911 and was a wedding present for my mother and father. You
put cold water and ice in the bottom to keep the butter from melting.
Moya Wade: I received this Mickey Mouse Movie Stories book for my 9th birthday. It was my favourite book and
I lost it for a while, but was very happy to have found it again.