What is your favourite board game? Kids at the Home School Picnic at Lions Park were keen to answer.
Claire Butler (9), Rebekah Knowling (8) and Samuel Knowling (11): Claire: I like chess – it is fun and good for your brain. Rebekah: I like 3D snakes and ladders. Samuel: I like Lego more and hope to become a master builder one day.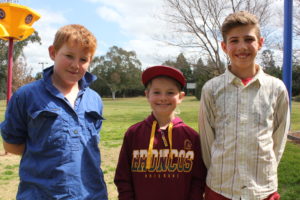 Ayrton Fowler (10), Ted Fowler (9) and Ruben Kelly (10): Ayrton: I like Monopoly – it's fun playing with all the money. Ted: Monopoly is fun! Ruben: I like Risk.
Hayden Hawker (8), Marshal Fowler (13) and Jacob Hawker (10): Hayden: I like Trouble – I got it for my birthday and I am awesome at it! Marshal: Monopoly is really fun and you can buy properties with fake money! Jacob: The Star Wars game is my favourite and I am ridiculously good at it!