What do you think of the Little Bang Discovery Club at the Parkes Library?
Teegan Rodgers with Poppy (4) and Elkie (2):
Teegan: It is a great start for kids to learn about science, technology, engineering and mathematics.
Poppy: I enjoyed collecting different things from the environment. I found feathers, seeds, rocks and shells. It was fun!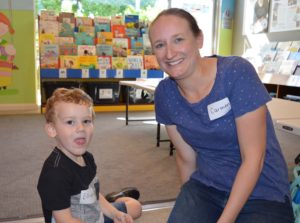 Carmen Gould with Elliott (3):
Carmen: It is fantastic and a good way to get kids interested in these subjects.
Elliott: I like using the timer to time lots of things, like how long it takes my brothers to do their homework.
Jessica Denmead with Ella (3):
Jessica: It is a good idea and the kids get to do things they would not usually do, like learning about magnets or using a looking glass.
Ella: I like my note book and it was fun collecting things in the park that we brought today.