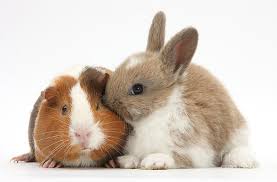 Rabbits and guinea pigs make excellent pets when you've got less space (but more love) to give. They're notoriously clean animals and rabbits can even be litter trained just like cats.
Rabbits and guinea pigs are plant-eaters or herbivores and require an adequate intake of vegetables, fruits, pellets, and fibrous grass and hay, plus fresh water daily.
Fruits and vegetables provide high levels of vitamins and minerals. You can safely treat your rabbit or guinea pig to asparagus, basil, broccoli, brussels sprouts, cabbage, carrots, cauliflower leaves and stalks, celery, cucumber, spinach, tomato and zucchini.
Avoid potato and potato tops, rhubarb (including the leaves), tomato leaves andtoo much fruit (as fruits are high in sugar).
Limit your rabbit or guinea pig's vegetable intake to two to three different greens each day. If your rabbit or guinea pig does not have enough to gnaw on, dental problems can occur.
Make sure you regularly clean their food and water dishes, and that your pet is being fed a varied, nutritious diet.
Your pet will require a large hutch with adequate shelter and warm places to hide and sleep. Rabbits can actually be housetrained similarly to cats. Ensure you clean your rabbit or guinea pig's hutch twice weekly, keeping it free from droppings and replacing straw bedding regularly. All pet's need plenty of space to stretch and exercise.
Make sure you let your pet out to play every day, keeping a close eye on them.
This time of the year there are plenty of rabbits and guinea pig babies around so make sure to stock up before adopting one.
You can find a good selection of food and bedding for your rabbits and guinea pigs at the Parkes Pet Barn.