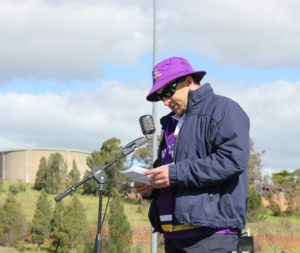 More than 400 people braved an icy cold wind on Saturday to create a festival atmosphere at the Northparkes Oval for the Parkes & Districts Relay For Life event. At the opening of the relay in the afternoon, organiser Renee Rice said the overnight section might be called off because of the strong wind.
Relay For Life is an overnight, team fundraising event that brings local communities together in the fight against cancer and to honour cancer survivors and their carers. After the opening ceremony cancer survivors and their carers did the first lap of the day after which it was open to the rest of participants to start doing laps. The Hope Ceremony with candles was held at 7:30pm after which the event was unfortunately called off and everyone packed up to go home.
A spokesperson of the Cancer Council NSW said this week they were possibly looking at re-holding the event in March next year. The relay is normally held every two years in Parkes. Despite the disappointment of the cancellation, the event still managed to create community spirit and support for everyone affected by cancer.
Andrew Cusack, who delivered the survivor speech, said the true heroes in our community were the cancer survivors and not sports champions. "We have to fight cancer every single day. Sports heroes do not have to do that." He called cancer survivors warriors. "A warrior is someone with great vigour, courage and determination and so many people
with cancer fit this description perfectly." He said there were many warriors in our community, "and I want everyone to remember that".