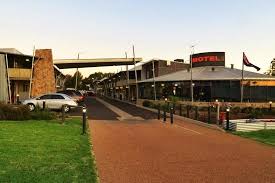 Most of us have driven past it countless times without ever stopping to explore, but the new managers of the Station Motel are set on getting the locals back. The first bait Ian and Karyn Wade-Parker have put out to attract people is an Indian buffet every Saturday night. "Our newly appointed professional chef prepares a different set of curries every Saturday, making all the food and sauces from scratch," said Ian. "With his extensive experience in authentic Indian cuisine, Chef Guna does not use any packaged items."
According to Ian many people assume all Indian food is hot, but he would like to encourage locals to try out the buffet that includes starters, two different curries, salads and dessert. Only ten years old, the Station Motel with its steel, glass and stone features, had unfortunately suffered some neglect under many different managers. Ian and Karyn, who both have extensive experience in running five-star hotels, believe they can bring life back to it.
Their first focus is the restaurant – being on the edge of town, it has a spectacular view that often includes kangaroos, horses and even sheep. "We have turned it from a café into a restaurant with a new menu, new wine list and proper table cloths," said Ian. Be adventurous and try out the Indian buffet on your next free Saturday. If you
really do not like Indian, you can still order from the a la carte menu too!