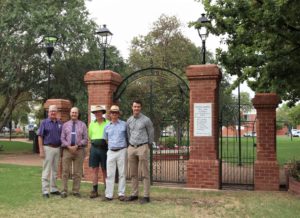 The ornamental gates in Cooke Park have undergone a complete restoration almost 100 years after their installation in 1928. Council's Heritage Advisor, David Scobie and contractors GC McCabe and Co restored the historic Venables Gates to their near original condition.
The work involved the repointing of brickwork, replacement of damaged lights and commemorative plaques, repainting of the ironwork and drainage improvements. "Through this work the original brass lettering on the gates was discovered, that had been painted over," said Councillor Alan Ward, Chair of the Parkes Shire Heritage Advisory Committee.
"The Parkes Region has a proud and colourful history, and we are delighted to have preserved this piece of history for our community," said Alan.
The gates were made in 1886 by Richard Venables and were located at the Australian Hall on Peisley Street in Orange. The hall was remodelled in the 1920's, the gates were removed and sold back to Richard at auction.
At the time Richard was a resident of Parkes and he donated the gates to the Municipal Council. He was contracted to build the side gates to match the central pair.
The gates were officially opened on 18 November 1928 as part of the Cooke Park extension, which included the construction of the fountain and pond, garden beds and paths and landscaping.