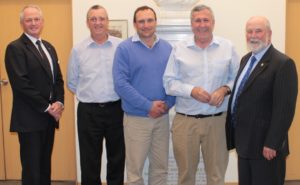 NSW Roads Minister Duncan Gay visited Parkes last week to assess the damage caused to the surrounding road network as a result of the recent flood events. "While we won't know the full extent or cost of the damage until the water recedes, Minster Gay was able to gage an understanding of the impact to our community," said Parkes Mayor, Cr Ken Keith OAM.
"Sections of the road's subsurface and bitumen has suffered extensive damage as a result of the prolonged wet weather and flooding. Motorists need to be aware that there may be pot holes and defects that pose a major risk to road users," the Mayor said. A Council crew was involved in an incident recently when a tree collapsed on the front of their vehicle. The workers managed to escape without any serious injury, but the ute suffered extensive damage.
Soil saturation had caused the roots of the tree to become unstable. Motorists are urged to drive slower and with more caution during this extraordinary period of wet weather, and to report damage to roads.